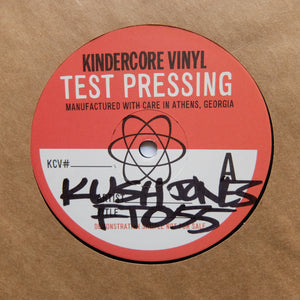 KUSH JONES "Earth Beat" RARE FUTURE TIMES NYC DEEP HOUSE TECHNO TEST PRESS 12"
TEST PRESSING PROMO COPY!!!
Kush Jones with an amazing 4-track 12" for Future Times!
We couldn't be happier to put this disc out there. Kush's first time on wax (his Strictly 4 My CDJs series on his Bandcamp site is essential) is four tracks that just relentlessly provide for the DJ in you. Representing the new era of NYC dance music along with artists like AceMoMa and DJ Swisha, mixing footwork and other influences with classic house and techno forms to get busy.
The whole 12" is lethal stuff that recalls Dance Mania at it's most melodic and spaced out, or prime-time Boo Williams. "Earth Note" pulls bright synths thru swinging Chi foundations, "Ari Dub" rocks the bells and the bass in Bronx fashion, "Worldly Rhythm" piles UR melodies and techno grandeur on a vicious bassline, and "Reso" closes things out with a devastating mixer full of blue-hot string work. Relentless and essential.
Future Times /// FT055
---
We Also Recommend