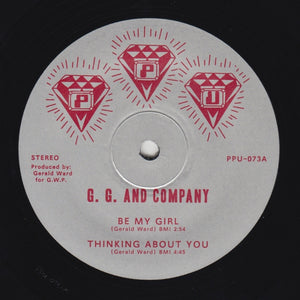 G.G. & COMPANY "Thinking About You" PPU-073 BOOGIE FUNK 12"
After 30+ years of being on the shelf, G.G. & Company's EP "Thinking About You" is going for World Wide Distribution. Starting out in Washington, Pennsylvania, USA, and growing up on the streets of Linn Town, "GW" Gerald Ward and vocalist Gary Lovell followed a dream to simply make it to Hollywood. Once they finally arrived they enlisted the help of seasoned session players; Ron Artis (keyboards), who has recorded and worked Michael Jackson, Van Halen and Stevie Wonder, and GW's friend Michael Perkins (alto & tenor Sax), who has toured and performed with the Brothers Johnson, Madonna, and Annie Lennox. The group calls themselves G.G. & Company. Their debut 1984 EP "Thinking About You" is a labor of love with many sacrifices made throughout its production. Prior to the mixing of this EP, GW was fortunate to have spent much appreciated time in the studio with Quincy Jones while he was producing James Ingram's LP "Yah Mo B There".
Presented to the public again by Peoples Potential Unlimited, two tracks from the original masters. G.G. and Company is seeking your support and asks that you add "Thinking About You" to your personal collection of music - you won't regret it! - GW
SINGLE SIDED 12"
Vinyl: MINT (sealed!) / Jacket: Generic
---
We Also Recommend