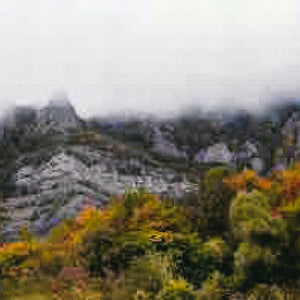 NWAQ "Above EP" NEWWORLDAQUARIUM LAST AGE AMBIENT DUB TECHNO 12"
Jochem Peteri comes drifting back into earshot with some new tackle in tow for those who prefer their deep house salt-encrusted, whole-baked, and dusted out. It's been a bountiful time for the back catalogue hoarders to follow Peteri's output, with plentiful reissues of timeless works as 154 and Newworldaquarium, but as a lifelong synth dreamer and space comber, he's just as productive in the here and now too. See his recent wildcard turn with Don't DJ for Meakusma if you need further proof.
Now the artist simply known these days as NWAQ (that's pronounced en-whack, don'tcha know) is minting a new label with three pieces that cement exactly what's magical about his sound, without repeating the unique alchemy of any of his previous records. 'Above II' is a crystal clear beam of light strapped to a kick that trips over itself with grace and poise. It's as forthright as the record gets, so why not place it up front? And yet it still feels wholly untethered. It is but a foil for the anchorless expanse of 'Above I', which buries some heavy bass ruminations very far down in the mix for a truly subliminal trip. That leaves it to 'Dume' to come staggering out all bleary-eyed, caked in last night's distortion and yet still exuding a cracked beauty that stands up to the first light of dawn.
If you sense a vastness looming over this EP, that's not entirely accidental. Great open spaces hold a special allure in the present moment – a theme further expounded upon in the artwork which adorns this record, by environment sculpting internet artist Jan Robert Leegte. NWAQ has always stood for a kind of environmental immersion, and this new emission compounds that idea in three distinct, refreshing ways. 
Last Age /// LASTAGE 01
---
We Also Recommend