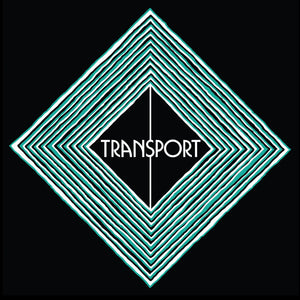 TRANSPORT ~ ALBINA MUSIC TRUST UNRELEASED MODERN SOUL DISCO JAZZ FUNK LP
In the summer of 1979, a Chicago DJ started a riot that killed disco overnight. Inciting fans to blow up disco records during a nationally televised major league baseball game, the cultural impact of Disco Demolition Night was felt globally. It even made waves in Portland, Oregon.

In the months to follow, clubs in the City of Roses were out to hire anything but disco. For Transport, hot nights as a stage-ready show band would fade to memory. First went the horns, then the vocalists, until all that remained was the rhythm section. The band's days were numbered or so it seemed.

But keyboardists Jimmy and Johnny Sanders were fiercely experimental. Freed from the disco formula, the brothers' exchange over synthesizers and other keyed instruments was electric. With drummer Towner Galaher, the group bore songs in homage to the fusion music ever present in Portland. Inspired by the national success of local groups like the Jeff Lorber Fusion, Tom Grant, and Dan Siegel, the band was reborn.

Months before signing a multi record deal with Geffen, Quarterflash's Marv and Rindy Ross offered Transport a shot at recording in their home studio. The group recorded over two sessions and soon shelved the tapes. Band members were summarily recruited by other acts shortly thereafter. The tapes have continued to sit.

Now over four decades later we hear this music. With tape restoration and mastering by Gus Elg, a calculated spitshine envelops the recording and positions listeners in the shag carpet-lined haze of a 1970s fusion session. With design by Eric W Mast, viewers can check out the aforementioned period upholstery through archival photography in the album's insert, depicting wall-to-wall shag gracing the booths at Mel Brown's Drum Shop.

Out of the gate, "Latin Summer" burns through with an urgency akin to The Gangsters - an album recorded by members of this band a decade prior. On the Funkadelic-fused "Chrome Dome," Jimmy Sanders continues to make use of the synthesizer, through squiggling tones and fried bursts, as well as on "Gospel Bridge," a track that evokes Heavy Weather in its Pollock-like splashes of melody. Jeff Bruce's fretless bass brings a psych-propelled elasticity to the groove, adding a sinful undercurrent to "Time of My Life" - a languorous tune that could be a Head Hunters outtake - while giving "Song For Valerie" a playful Peaches & Herb-like wiggle.

Transport's output is staggering for a group entirely unreleased and but a drop in the bucket for Portland's cottage industry recording business of yesteryear. This installment in the group's catalog probes a layer deeper.
Albina Music Trust /// NEW 
---
We Also Recommend